Jade, an old friend from my days on the campus at WSU, was in the states (don't you just love that phrase?) this month so we got to visit.
I talked her into going to Vintage Cupcake with me on 24th Street and we were able to snag a balloon in addition to some rich and delicious cupcakes.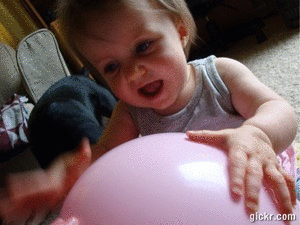 Aspen loved it, and I've definitely settled on using balloons in her 1-year photoshoot (which you know I'm going to schedule with
Linsey/Ellie Bean Photography
). This little princess had a great time trying to bite the balloon, and batting it around with the string. With Linsey's skills, I'm sure I'll get shots even more fun than these to commemorate the big birthday.